During the days 23 – 26 May, the MegaRide team carried out 4 days of experimental tests on track, at the Circuito del Sele, with the aim to fully characterize a vehicle, defining standards to identify physical models with new and fast procedures, and bringing the actual realism of experimental reality back to a simulation environment with a focus on ride and road unevenesses.
Great synergy with the partners taking part to this amazing R&D project:
Calspan, US company, allowed and will allow us to know the matching between the outdoor experimental reality and the outputs of tire testing methodologies, conceived as both test benches and vehicle-data-based technologies, allowing data acquisition and the possibility of calibrating and identifying multiphysical tire models based on specific testing procedures planned for each different model and to highlight peculiar physical phenomena.
VI-grade, with which we have a long a successful partnership, finds an additional level of interaction in today's activities. We are bringing the experimental reality to a new virtualization context: the scanning of a track, through specific and innovative laser equipment, will allows us to parameterize and calibrate handling and ride models, evaluating the driver's subjective feedbacks. What's more, is that next developments are focused on the possibility to associate physical properties, due to grip, roughness and weather, to the local virtual road patches, enhancing the level of reliability of the tire multiphysical interaction.
BE CAE & TEST brought its experience to help bring our activities in the field of ride and comfort, equipping the four corners and the whole vehicle with accelerometers. The aim is the objective validation of the ride dynamics reproduced by a Driver in the Loop platform equipping MegaRide tire models: the same track, run by the same vehicle, has to provide the same ride data, both in physical and in virtual reality!
Kistler, thanks to its technologies applied to the development of advanced experimental equipment, allowed us to enrich our vehicular platform with instruments useful to characterize vehicle dynamics and tire/road interaction. Dyno-hub, S-motion and laser devices will be our reference for models validation and to acquire data for ride and friction analysis, coupling the dynamic measurements with the tire thermal and wear ones.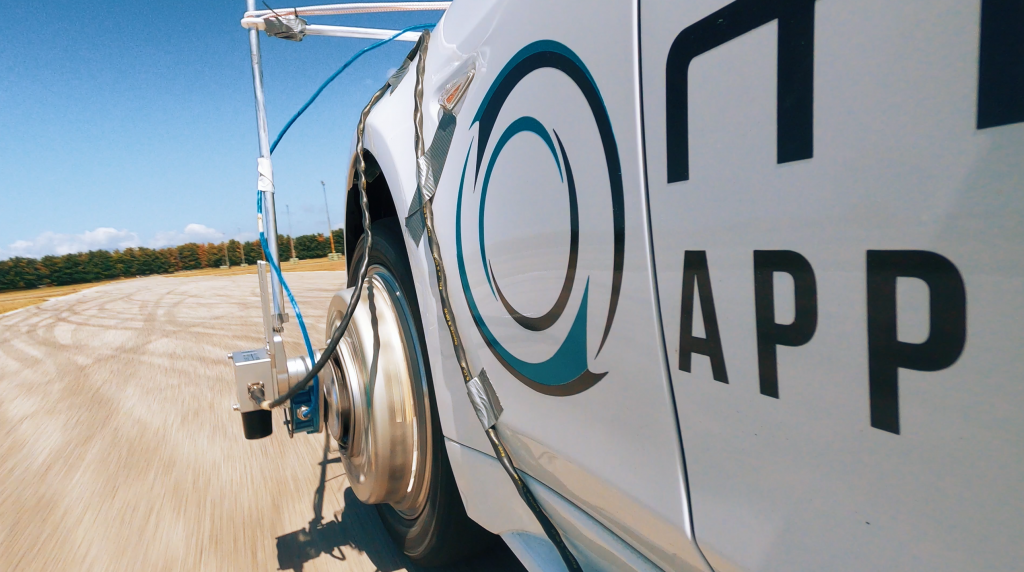 During the test days, together with the whole MegaRide team, the members of the Vehicle Dynamics research group of the Federico II University of Naples, and our vehicle dynamics students were on track. We deeply believe in an open and shared knowledge, growing and disseminating thanks to the cooperation among several entities and based on research projects, PhD paths, master theses and on the energy of young and passionate automotive professionals.
This experimental session consolidated our SEASIDE RACING concept. Ideal weather and temperature for tires always properly heated, the sea a stone's throw from the track, the possibility to accommodate our guests in amazing locations and an atmosphere based on fruitful working days and enjoyable after-work evenings.